About Madera Design Studio
Hi I'm Stacey. Owner and designer at Madera Design Studio.

Handcrafted Jewelry

Thanks so much for stopping by to check out Madera Design Studio. All of the items you see on the site are designed by me or in collaboration with other artists. Like you - I think it's so important to support small businesses, both in our neighborhoods and online.

Few of A Kind

There is so much unique beauty in the world all around us and we try to incorporate that into everything we do. Each piece of jewelry made by Madera is handcrafted, unique, and few of a kind, so you can be confident everyone you see won't be wearing the same piece as you.
Interiors Inspired my Wooden Jewelry
Working in interiors started as a necessity then became a passion. I am working on building a home in Croatia and one in Philadelphia with my husband Dave. If you're into DIY have a look CroatianRenovation.
Through these renovations I've gotten deeper into woodworking, and this year I decided to use what I've learned to create wooden jewelry. I try to use recycled and upcycled wood in many of my creations - much of it coming from scrap from my renovations.
If you're also concerned about trying to make sustainable choices,
my jewelry design aims to reuse as much as I can.
Giving Back
I am happy to say that for every purchase you make with us we'll be donating money to One Tree Planted, to help reforest our planet. Wooden jewelry is helping with sustainable fashion but in addition I'm trying my best to use recycled and eco materials whenever possible.
Read More About Giving Back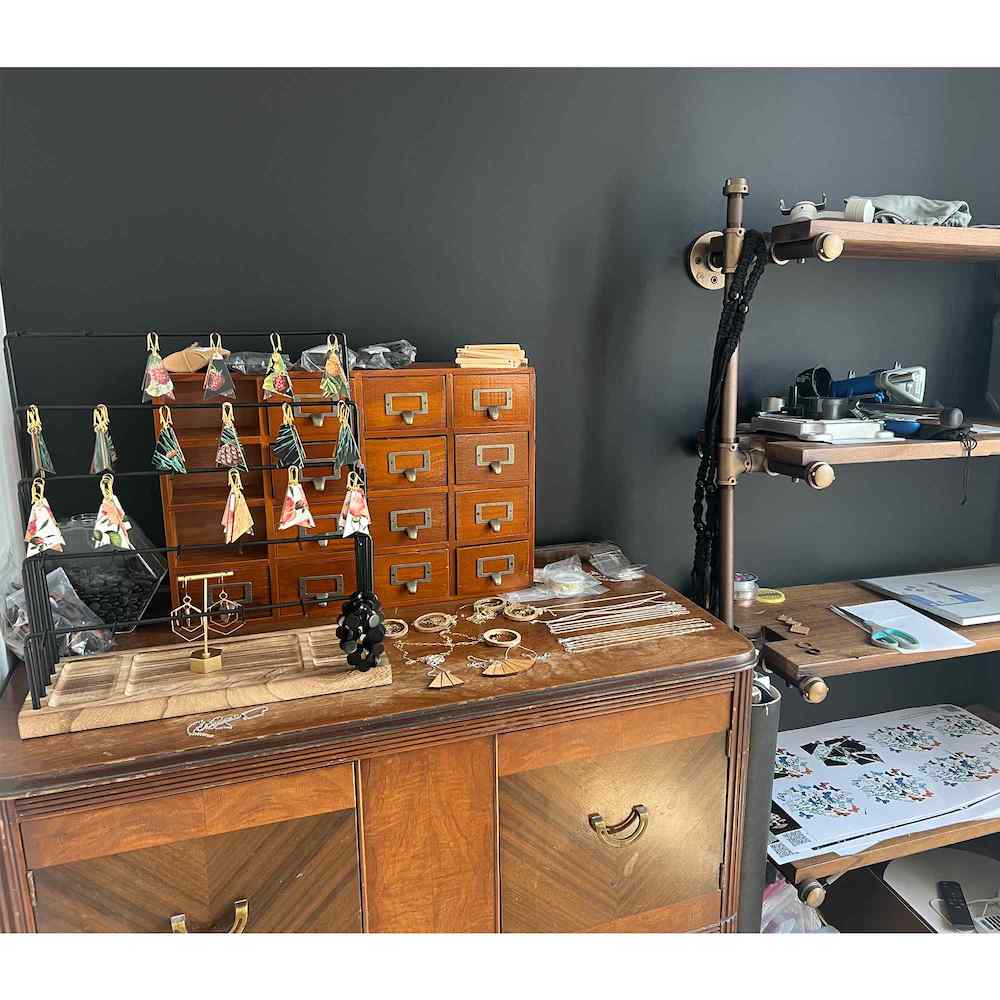 Jewelry is Self Expression - Wear a Piece of Art That Tells Your Story
Jewelry is a form of self-expression, a reflection of your individuality, and one way that you can open yourself to the world around you.

At Madera Design Studio, we are creators, storytellers, and curators of wearable art. We embrace ideas and themes that ignite our passion and hopefully yours.

We'll continue to expand our collections and our studio (pictured here) as we follow our heads, hearts and imaginations. 
Read More About Madera
Handmade in Philadelphia by a Small Independent Business.
Shop Jewelry
Geometric Jewelry
Regular price

Sale price

$50.00 USD

Unit price

per

Regular price

Sale price

$50.00 USD

Unit price

per

Regular price

Sale price

$25.00 USD

Unit price

per